Researching across intersections of visual language, critical publishing, and digital media environments. Actively contributing to stanza – studio for critical graphic design & publishing (DK). Creatively co-directing fanfare – artistic research collective of interlinked communications (NL). Continuously learning – currently, as a research fellow at the London School of Film, Media and Design, UWL (UK).
How do we read, see, perceive and understand the visual world that surrounds us? 
How do we learn and relearn through breaking down and mimicking otherwise familiar shapes? 
During one September week, the Graphic Design course of Krabbesholm was transformed into a turbo-typographical-kitchen, in which the alphabet was deconstructed and rebuilt through a set of essential ingredients. This attention begged for the question: how can we challenge our existing knowledge of the alphabet through form and language, and how do we call, classify or name a font? As a result, a collectively produced typeface, Glossy Krabbesholm, was designed as a new "cut" of the typeface, Glossy Magazine, by Bold Decisions. Following this, a publication with type specimens of each letter was designed, riso-printed, bound and displayed in the department.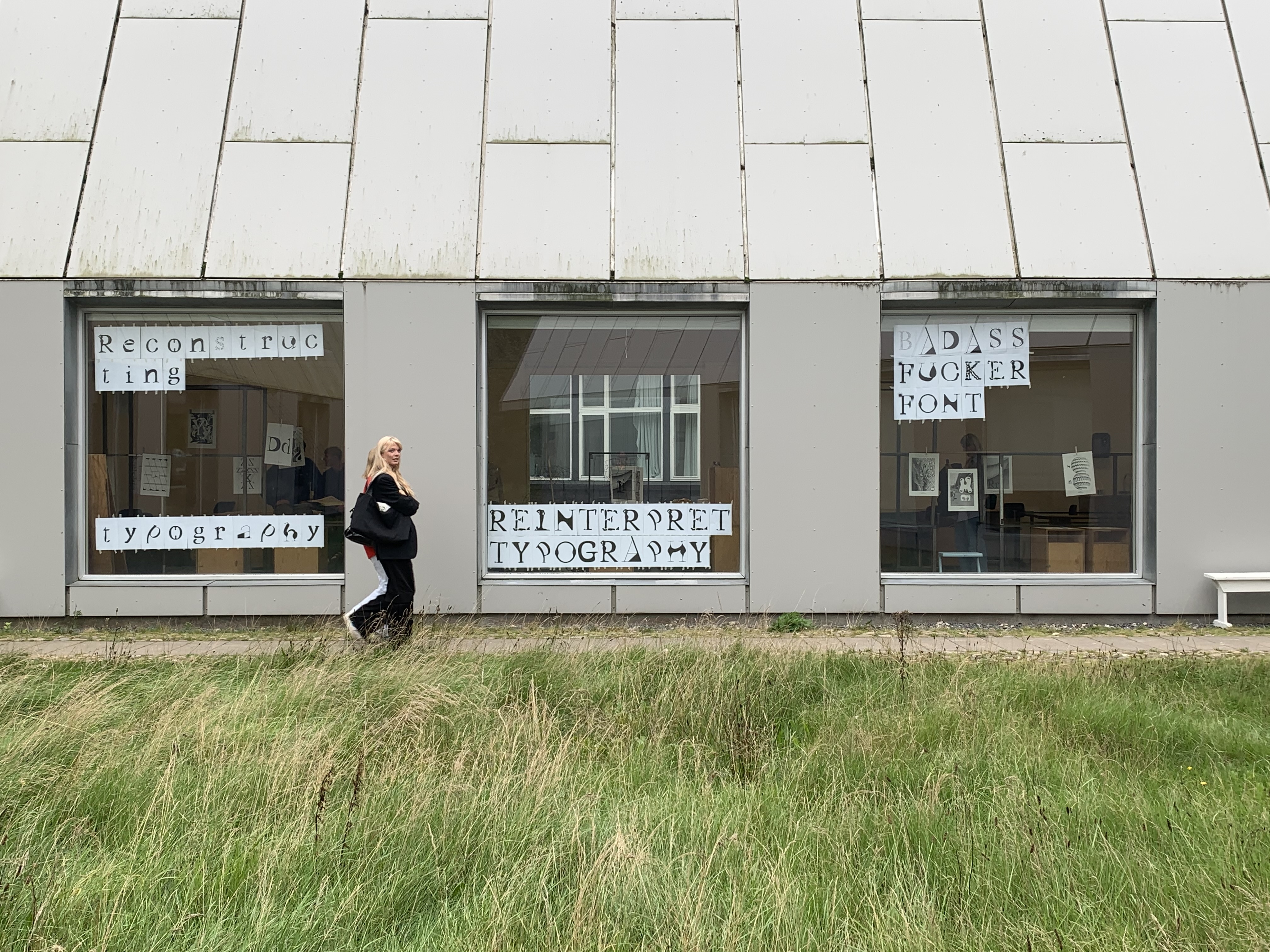 Colophon:
Teachers: Bram van den Berg, Miquel Hervas Gomez, Freja Kir 
Teaching assistant: Adrian Olenics
Printing: RISO A2 
Typeface: Glossy Magazine Regular, Bold Decisions
Participants: Alexandra Haavardsson Gates, Amanda Kramme Guldbæk, Anders Sveidahl, Caroline Toft Frost, Cecilie Davidsen, Christine Lyngsø Jensen, Emilie Gürtler Jauert, Emily Howkins Lange, Filippa Emilie Jensen, Julie Heede Kalenberg, Kalle Barne, Katrine Krogsgård Larsen, Line Mølsted Andersen, Linnéa Kroglund, Louise Moradi, Lukas Blazek, Malva Askerup, Mathilde Gottenborg Clausen, Mikkel Skotte, Niklas Ulrich-Tsalkos, Nønne Nørgaard, Otto Faber, Smilla Møller, Sofie Carla Bang
Krabbesholm is a preparatory school for creative learnings within art, architecture, design and graphic design