Researching across intersections of visual language, critical publishing, and digital media environments. Actively contributing to stanza – studio for critical graphic design & publishing (DK). Creatively co-directing fanfare – artistic research collective of interlinked communications (NL). Continuously learning – currently, as a research fellow at the London School of Film, Media and Design, UWL (UK).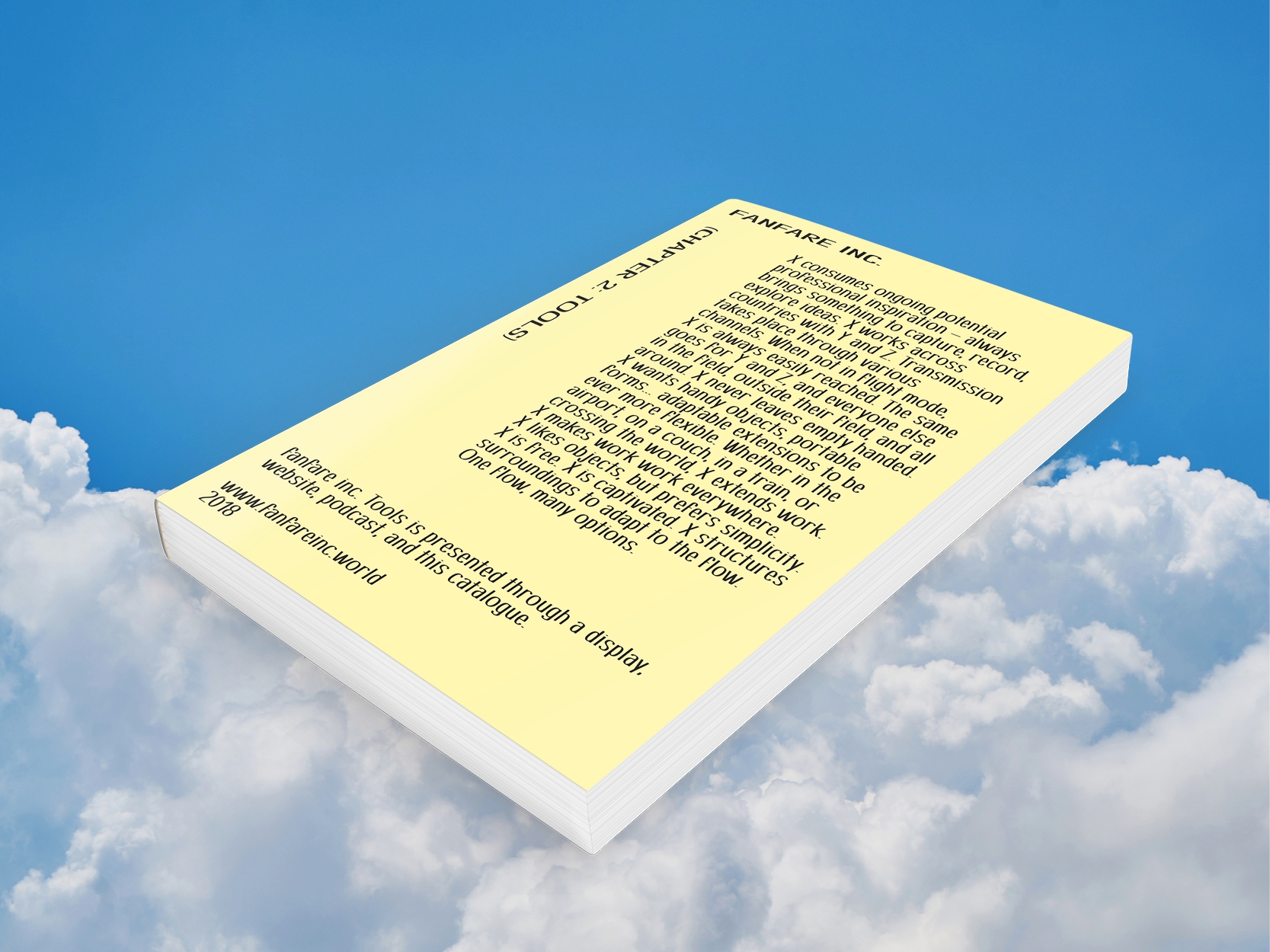 X consumes ongoing potential professional inspiration – always brings something to capture, record, explore ideas. X works across countries with Y and Z. Transmission takes place through various channels. When not in flight mode, X is always easily reached. The same goes for Y and Z, and everyone else in the field, outside their field, and all around. X never leaves empty handed. X wants handy objects, portable forms… adaptable extensions to be ever more flexible. Whether in the airport, on a couch, in a train, or crossing the world, X extends work. X makes work work everywhere. X likes objects, but prefers simplicity. X is free. X is captivated. X structures surroundings to adapt to the flow. One flow, many options.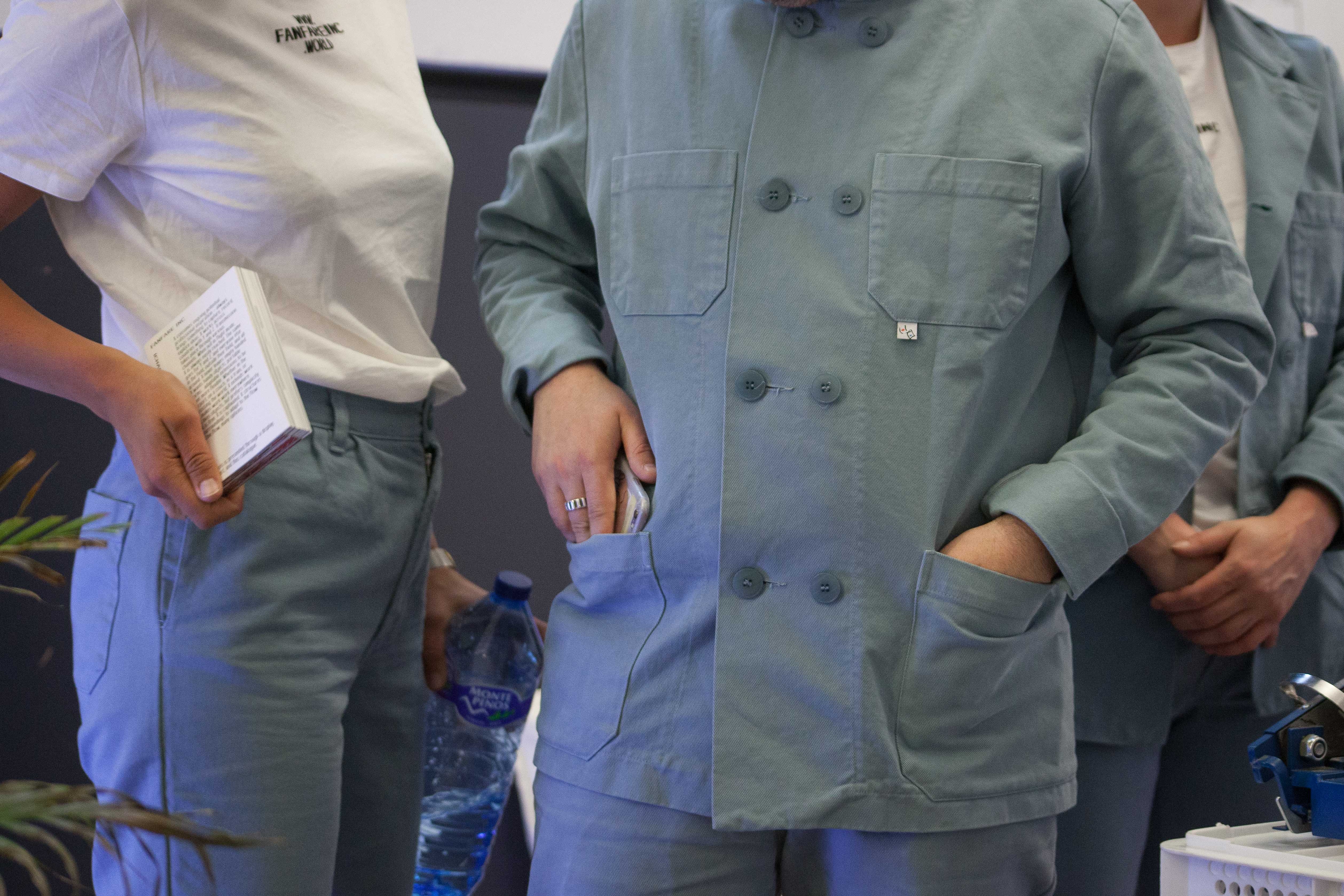 fanfare inc. Tools is the third edition of a research series on working conditions in smaller scale organizations in the creative industries. The third edition of fanfare inc. sets out to research the concept of contemporary tools. In this context, tools should be approached as items extending our work adjustability. In line with the nomadic focus of the research, each chapter is launched in a new location and context, inviting a new set of designers and peers to contribute to the topic. Shared as a publication, a traveling display, a series of flags, a nomadic conversational podcast, and as a website fanfare inc. was presented at Its a Book in Leipzig, Libros Mutantes in Madrid, Manifesta 12 in Palermo and fanfare, Amsterdam.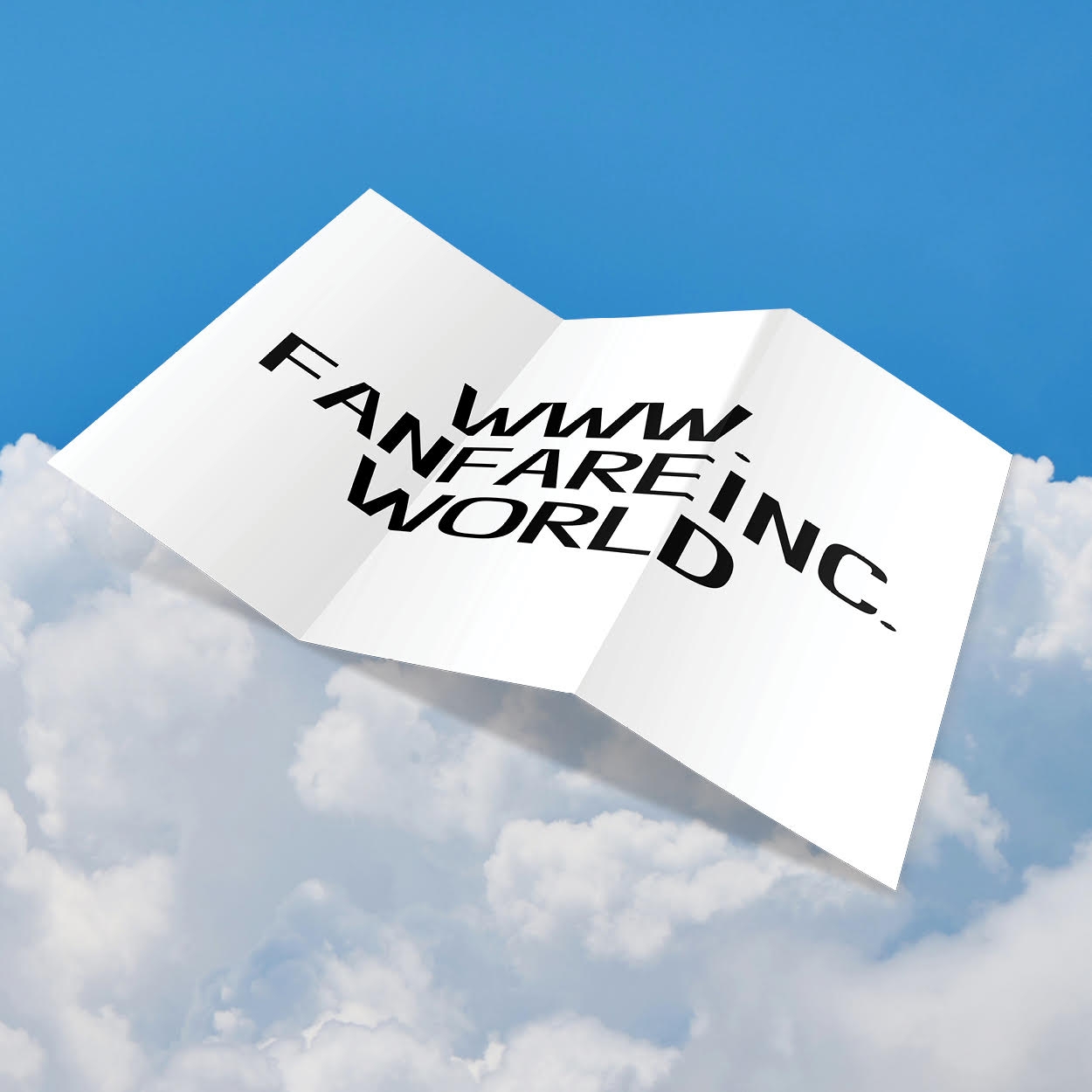 Colophon:
Curation, design and concept: Freja Kir, Lotte Van de Hoef, Miquel Hervás Gómez
Podcast and editing with: Charlie Clemoes
Website programmed and designed by: Bram van den Berg
Typography by: Jung-Lee Type Foundry
fanfare inc. Tools contributions:
Adolfo, Audrey Large, Ceel Mogami de Haas, Cosmos Carl, Deborah Bowmannn, Felix Salut, Giulia Crispiani, Immo Schneider, Hackers & Designers, João Roxo, Knoth & Renner, MacGuffin, Miron Galic, Nam-Hee Ji, O Hezin, RadioEE, Recetas Urbanas, Werker Magazine
fanfare is a platform and design studio for cross-disciplinary collaboration and visual communication. Through an active programme, fanfare generates, explores, and curates environments for visual interactions.
Manifesta is a nomadic biennial of contemporary art & culture that changes location every 2 years. Manifesta 12 took place in Palermo in 2018.
It's a Book! Is a hybrid independent publishing fair, marketplace for publishing projects, a symposium and a place for exchanging ideas and debate.
Libros Mutantes is an independent project focused on the relation between publishing and Visual Arts. The main event, Libros Mutantes Madrid Art Book Fair, is the largest and most comprehensive Spain-based project aimed at researching and spreading the creations of independent publishers. Libros Mutantes Madrid Art Book Fair is held at La Casa Encendida.
fanfare inc. transportation was made possible by the kind support of Stimuleringsfonds Creatieve Industrie, the Danish Arts Foundation, AFK – Amsterdams Fonds voor de Kunst