Researching across intersections of visual language, critical publishing, and digital media environments. Actively contributing to stanza – studio for critical graphic design & publishing (DK). Creatively co-directing fanfare – artistic research collective of interlinked communications (NL). Continuously learning – currently, as a research fellow at the London School of Film, Media and Design, UWL (UK).
In 1993 the American artist Lawrence Weiner realized a work of art in the Tetterode lobby (Amsterdam) and the current studio location of fanfare.
In 2000, the work was painted over, and only a low-res photo remains. Here is our point of departure.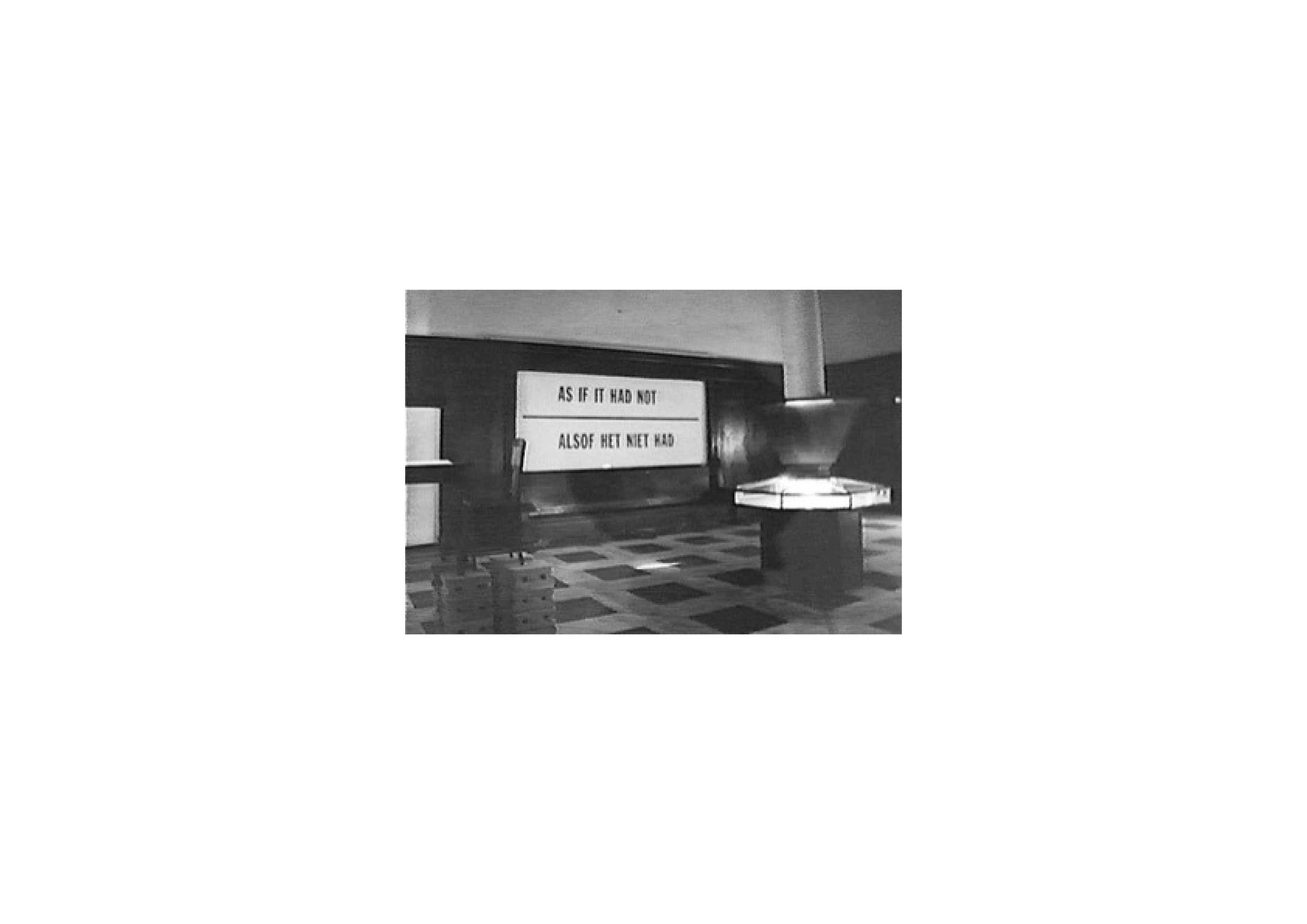 Art of Documenting Art is a series of artistic interventions and conversations curated and designed for the /b/channel series of fanfare, focusing on the interlink between artistic practice and explorative documentation. Through a series of chain reactions, artists and designers are invited to react to previous reactions to the work of Weiner. Through this optic, Art of Documenting Art directs attention to the obstacles, successes, and failures of visual documentation. Three editions of the series have taken place and been documented through a talk show, a podcast, a photographic intervention, and a forensic interview patchwork.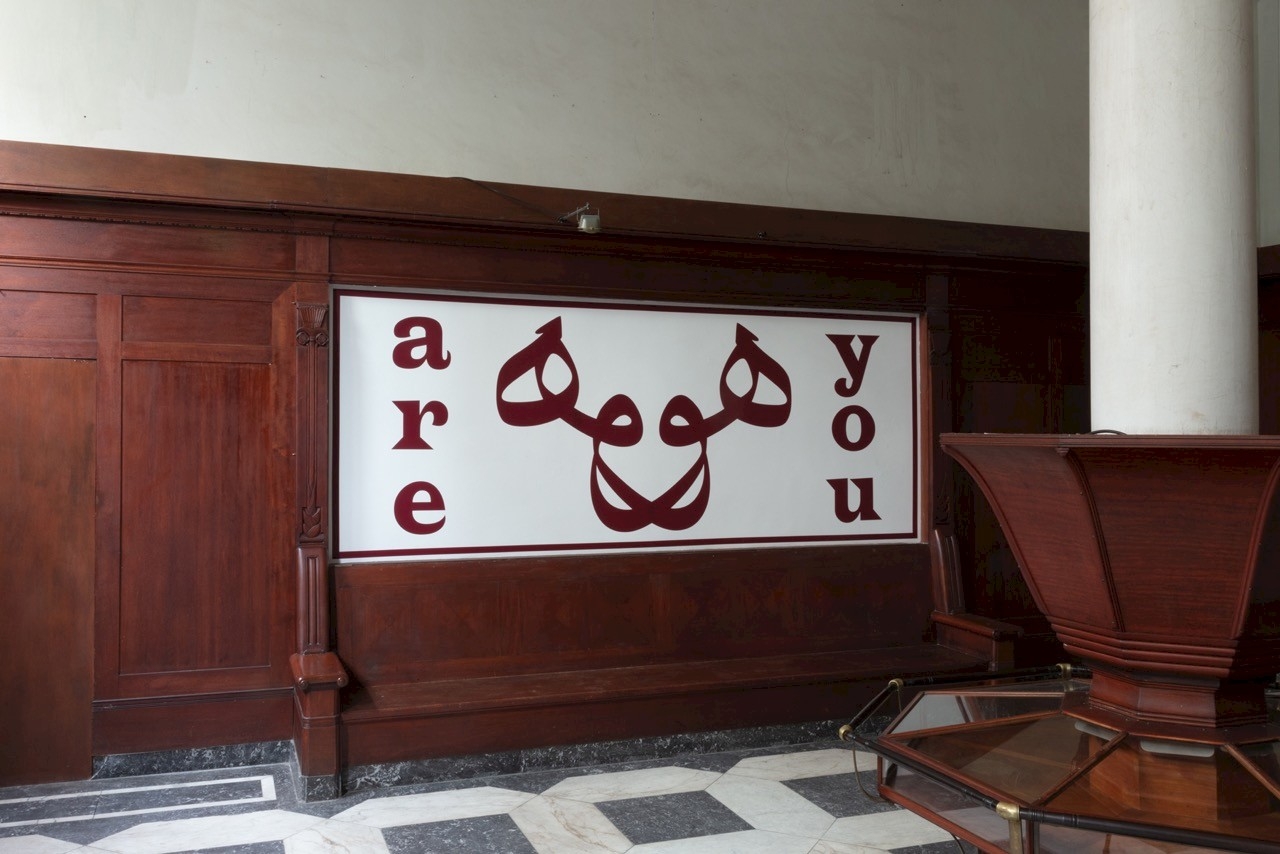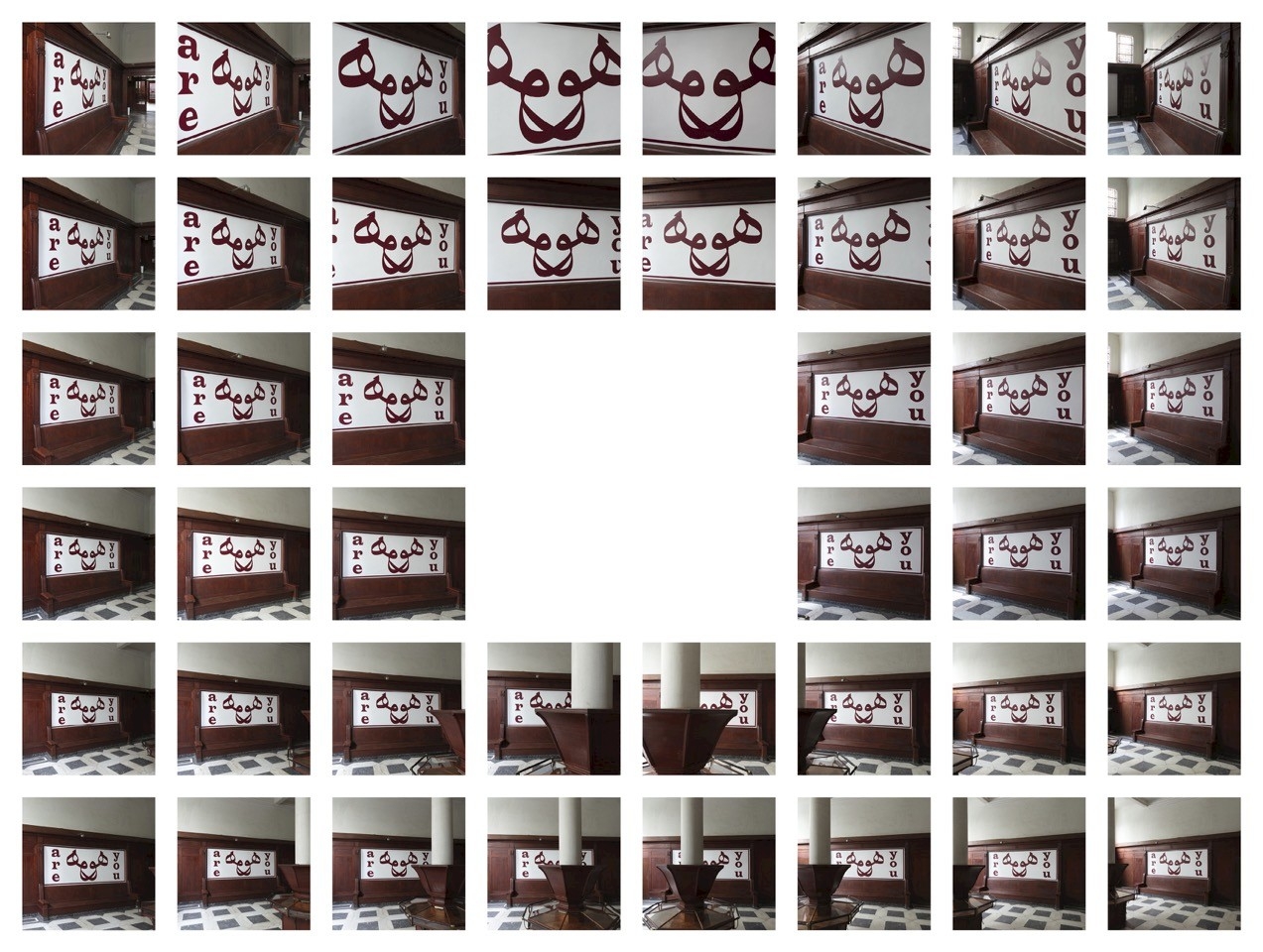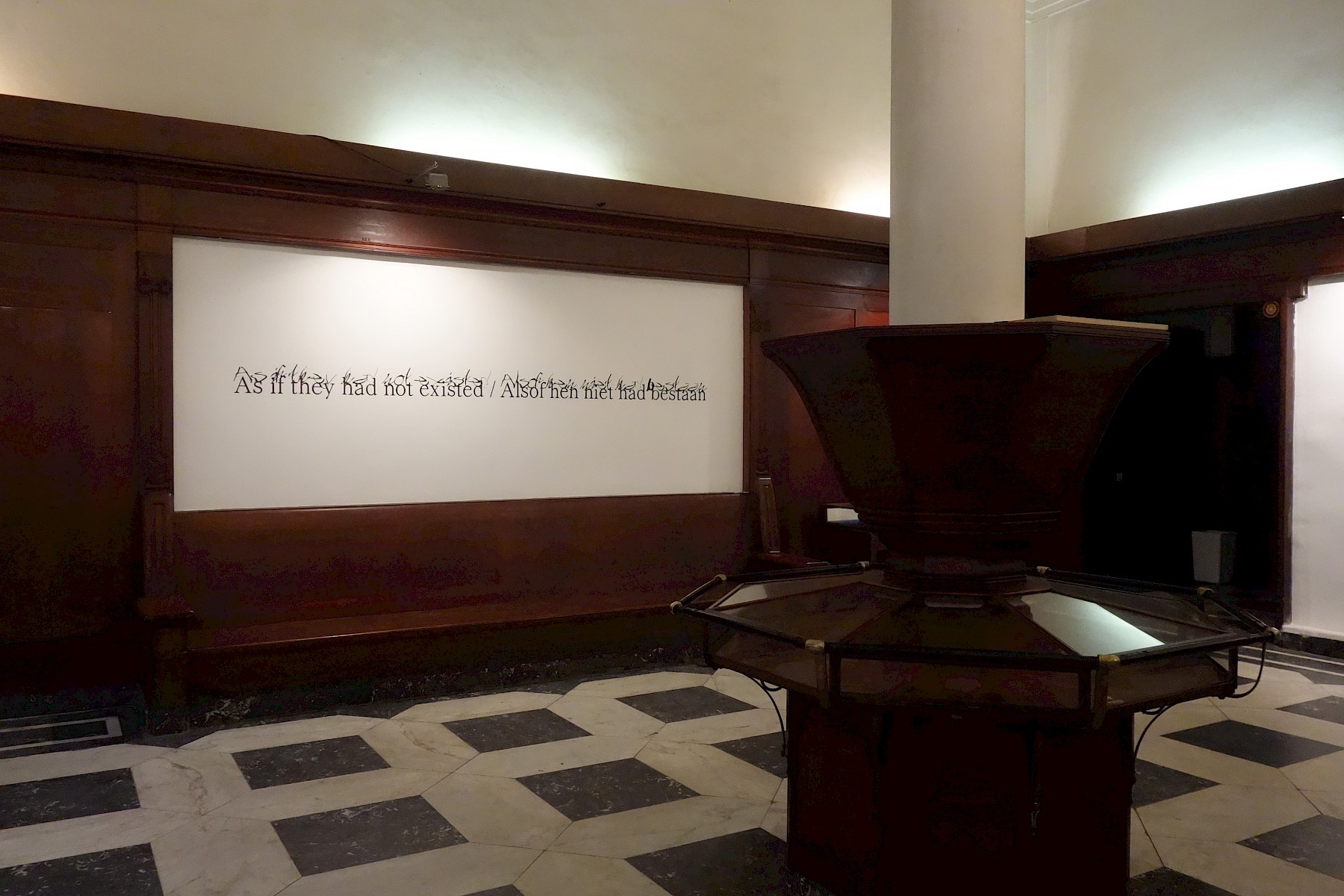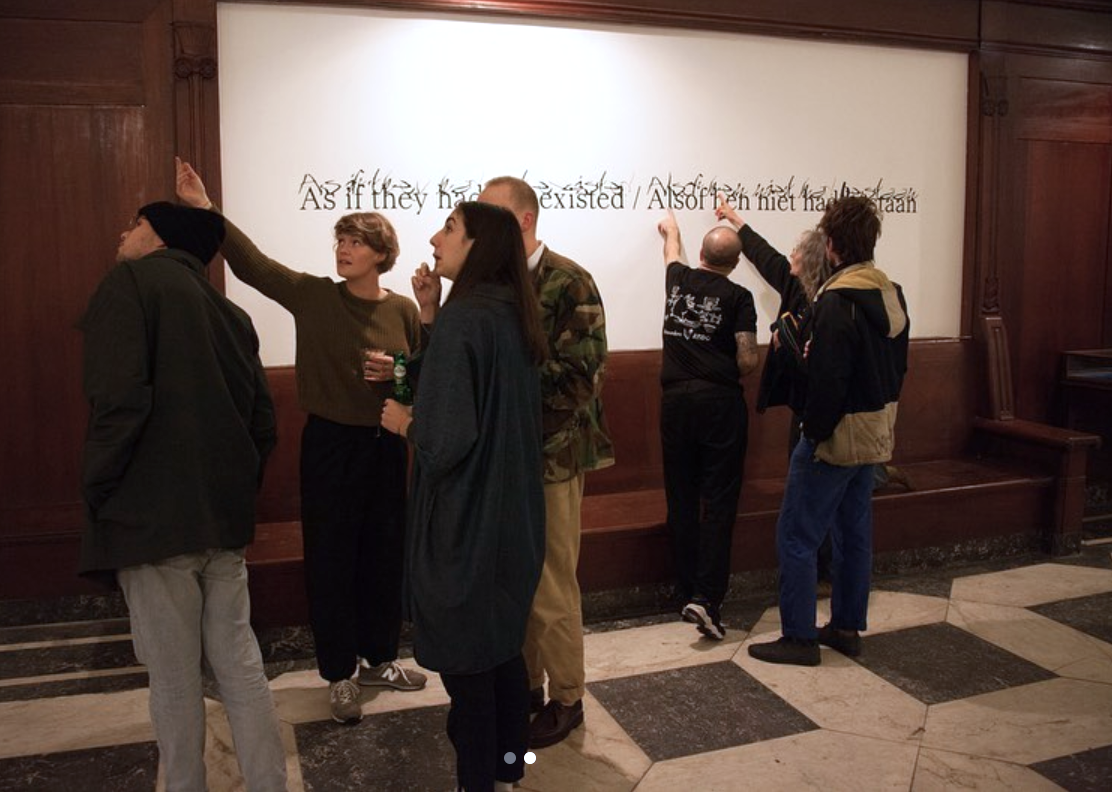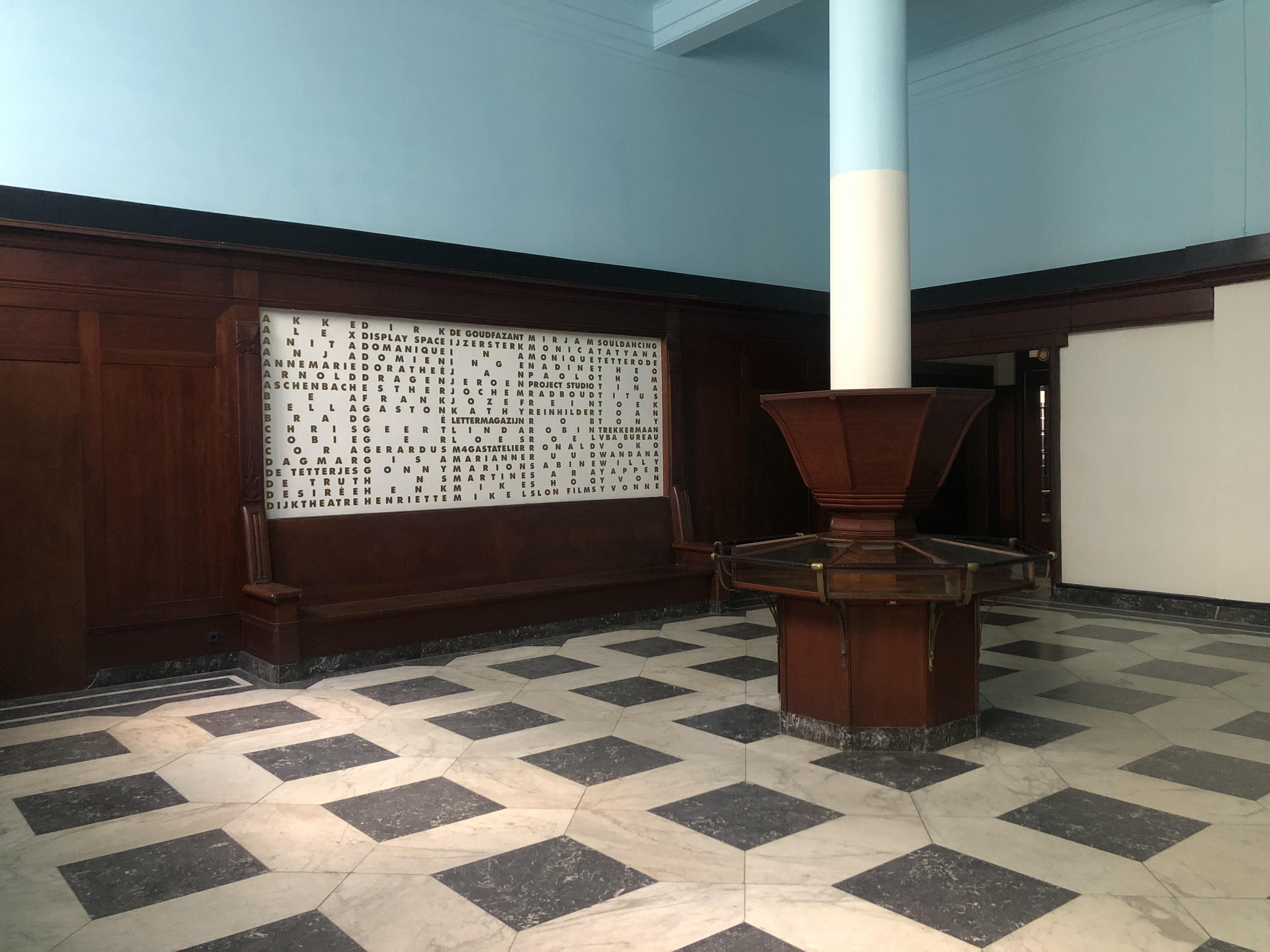 1/0
Colophon:
Design and concept: fanfare, Miquel Hervas Gomez, Freja Kir
Wall intervention 1:
Concept, design: GIRLS LIKE US
Typeface: Menopause by Johanna Ehde
Typeface: High, light, shrill by Johanna Ehde and Andrés G. Vidal, with Ana Gómez, Andrés Gallego, Dolores Gómez, Domingo Reyes, Estefanía Ruíz, Felipe Romero, Francisco Moreno, Juan Diego Asencio, Juan Jovacho, Keli Andrade, Luis Moya, Manuel Márquez, María Isabel Segura, Marta Miró, Miguel Hormigo, El Centro ocupacional de La Puebla de Cazalla, and Alegría y Piñero
Talkshow moderators: Diego Diez, Freja Kir
Historical insight: Monica Aerden
Chat with: Franziska Müller Schmidt and Sam de Groot
GIRLS LIKE US is an independent magazine turning the spotlight on an international expanding community of women and transpeople within arts, culture and activism.
Wall intervention 2:
Concept, design: Slavs and Tatars
Documentation: Guus Kaan
Accompanying fanfare tetatet podcast
Slavs and Tatars is an artistic collective working across exhibitions, books and lecture-performances with a devoted focus to the area of Eurasia.
Wall intervention 3:
Concept, design: Na Kim
Na Kim is a graphic designer based in Seoul and Berlin. Kim currently runs the project space, LOOM in Berlin.
/b/channel is an experimental lecture series initiated by and unfolding in fanfare, Amsterdam. The series creates a frame for inviting young, upcoming artists and designers to explore the field of critical publishing in the broadest sense.
The first two editions of Art of Documenting Art were made possible by the kind support of AFK – Amsterdams Fonds voor de Kunst