Researching across intersections of visual language, critical publishing, and digital media environments. Actively contributing to stanza – studio for critical graphic design & publishing (DK). Creatively co-directing fanfare – artistic research collective of interlinked communications (NL). Continuously learning – currently, as a research fellow at the London School of Film, Media and Design, UWL (UK).
How well do you know your local neighbourhoods? And what are the stories they could tell?
Designing Detour was a workshop conducted with the master students of Contextual Design at Eindhoven Design Academy. With inspiration from the essay Geographies of Ignorance (2017) by Marco D'Eramo, the focus was set on mapping and revisiting strange, unfamiliar settings in our nearby neighbourhood. Based on quantitative data, stories and personal encounters collected by the students, Designing Detour was designed and presented as a printed map and physical display installation.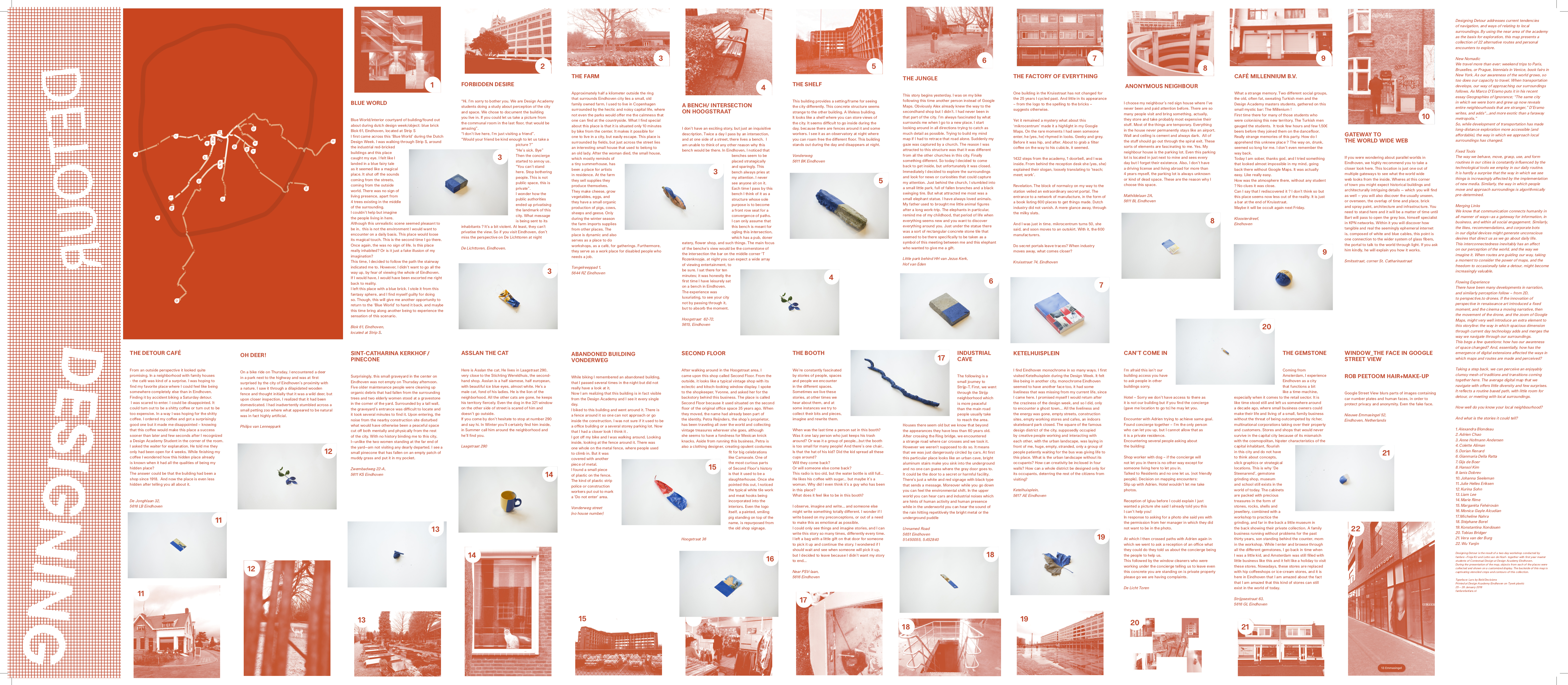 Fixed tools, Merging links and Flowing experience

The way we behave, move, grasp, use, and form routines in our cities is constantly influenced by the technological tools we employ in our routines. Similarly, the likes, recommendations, and corporate bots in our digital devices might generate unconscious desires that direct us as we go about daily life. This interconnectedness inevitably has an effect on our perception of the world and the way we imagine it. When predetermined routes are guiding our way, taking a moment to consider the freedom to occasionally take a detour, might become increasingly valuable. This begs a few questions: how has our awareness of navigation changed? And, essentially, how has the emergence of digital extensions affected how maps and routes are made and perceived?
Taking a step back, the average digital map we navigate offers little diversity and few surprises; it reflects a routine-based path with little room for detours or meeting with local surroundings.
Colophon:
Teaching: Lotte van de Hoef, Freja Kir
Workshop References:
D'Eramo, M. (2017). Geographies of Ignorance, New Left, 108, November 2017
Steyerl, H. (2011). In Free Fall, E-flux journal nr. 24
Bown, A. (2017). Algoritmic control, Roarmag
Design Academy Eindhoven, Master in Contextual Design is an educational programme for considering design as a way to make sense of the world, as a practice of cultural critique. Design is an intrinsic part of the cultural, social, ecological and technological reality. It creates new relations, transformations and ways of experiencing the world.